Phaedrus Systems supports engineers at all stages of embedded safety-critical and high-integrity projects. Tools available include requirements capture for IEC 61508, EN 50128 , DO178 and nuclear applications, a SIL3 RTOS and compiler validation reports. Consultants have experience working on automotive, rail and aerospace applications, meeting standards such as IEC 61508 SIL4, and D0178B. Backing these is a wide range of other relevant embedded tools, including code checkers, USB and TCP/IP stacks, development kits, debuggers and ICEs.

Our latest publication is an application note on how to link Programming Research's QA·C and IAR's Embedded Work Bench. Setting up a link allows you to call QA·C easily and quickly. This allows frequent static analysis and MISRA checking (if you are working to MISRA guidelines) finding potential bugs early and reducing later testing and debugging.
For link to document click here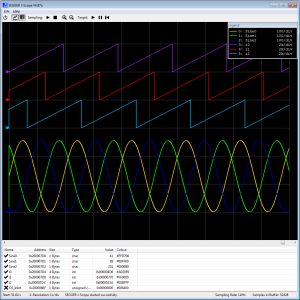 J-Scope &
Debugger


Segger has introduced three new products to improve debugging: J-Scope data visualisation software, J-Link Real Time Terminal and a beta release of the stand-alone Debugger software. These products are for use with Segger's market-leading J-Link family of debug probes .
For more information Click here
NEC, November 11/12th
Phaedrus Systems CTO Chris Hills will be presenting at this event (Tuesday 11th November 10:00 in Forum 5) on MISRA-C:2012:Cure or Curse.
We will also be onthe Programming Research/ QA-Systems stand to answer any questions on MISRA-C
The Show itself is in 5 distinct sections covering Aero, Composites, Automitive and Performance Metals Engineering as well as Auto Electronics. Well worth a visit as looking across related domains is often a very useful breath of fresh air
 
More information at
http://www.advancedengineeringuk.com

The IXXAT USB-to-CAN V2 is the next generation of the well-known IXXAT USB-to-CAN interface.
With up to two CAN High Speed channels, one CAN Low Speed channel, and a LIN channel, depending on the device variant, a wide variety of applications can be addressed in both the industrial and the automotive sectors
Phaedrus Systems can supply the full range of IXXAT products more information here
Independent Advice.
Independent advice is strengthened by the company's founder being an active participant in several standards bodies, including ISO C, C++ and IEC 61508-3, and a principal author of MISRA-C:2004. and member of the MISRA-C2011 team .If you need advice please call or email.
---
| | | | |
| --- | --- | --- | --- |
| | Safety Critical Systems Club | National Microelectronics Institute | |
| | | Software Systems Engineering Initiative | |