Phaedrus Systems supports engineers at all stages of embedded safety-critical and high-integrity projects. Tools available include requirements capture for IEC 61508, EN 50128 , DO178 and nuclear applications, a SIL3 RTOS and compiler validation reports. Consultants have experience working on automotive, rail and aerospace applications, meeting standards such as IEC 61508 SIL4, and D0178B. Backing these is a wide range of other relevant embedded tools, including code checkers, USB and TCP/IP stacks, development kits, debuggers and ICEs.
Embedded world is the biggest event in embedded systems. In Nuremberg from February 24th to 26th it can be overwhelmingly large but with a little planning you can catch up with developments in your areas of interest. It may be late to get a hotel room for anything less than a King's ransom, but if you are near an appropriate airport you might be able to fit in a day trip.
http://www.ask-embedded-world.de/index.php5?locale=en_GB
emSSL is a SEGGER software library that enables secure connections across the Internet. emSSL offers both client and server capability.

SSL/TLS is a must-have in nearly every application which is connected to the Internet. Products of the IoT, smart grid or home automation markets benefit from securing their communication.
For more information Click here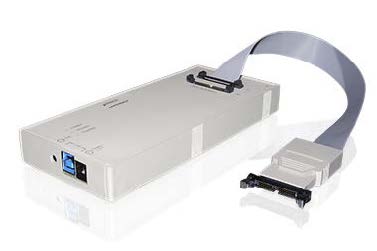 A new all-in-one debug and trace solution has been developed by Lauterbach in response to the breakthrough of Cortex-M processors into the embedded market.
This lower cost, but full featured, system called µTrace specifically targets the Cortex-M family. Complete with Lauterbach's TRACE32 debugging software.

JAN-2015 Lauterbach has announced support for NXP LPC54100 Series of MCU in µTrace
For more information click here

The IXXAT USB-to-CAN V2 is the next generation of the well-known IXXAT USB-to-CAN interface.
With up to two CAN High Speed channels, one CAN Low Speed channel, and a LIN channel, depending on the device variant, a wide variety of applications can be addressed in both the industrial and the automotive sectors
Phaedrus Systems can supply the full range of IXXAT products more information here
Independent Advice.
Independent advice is strengthened by the company's founder being an active participant in several standards bodies, including ISO C, C++ and IEC 61508-3, and a principal author of MISRA-C:2004. and member of the MISRA-C2011 team .If you need advice please call or email.
---
| | | | |
| --- | --- | --- | --- |
| | Safety Critical Systems Club | National Microelectronics Institute | |
| | | Software Systems Engineering Initiative | |