Phaedrus Systems supports engineers at all stages of embedded safety-critical and high-integrity projects. Tools available include requirements capture for IEC 61508, EN 50128 , DO178 and nuclear applications, a SIL3 RTOS and compiler validation reports. Consultants have experience working on automotive, rail and aerospace applications, meeting standards such as IEC 61508 SIL4, and D0178B. Backing these is a wide range of other relevant embedded tools, including code checkers, USB and TCP/IP stacks, development kits, debuggers and ICEs. There is also a Technical library

Razorcat & TESSY Introduces Fault injection for testing
Razorcat, has announced that the forthcoming release (4.1) of the TESSY unit and integration test tool will support automated fault injection.
TESSY takes care of the whole test organization as well as the test management, including requirements, coverage measurement, and traceability click here for more information

25-26th September

NEC

Embedded Live at the NEC for what is sure to become THE event for the UK embedded systems industry. Particularly for those of you who can't go to embedded world in Nuremberg. FO

For more information about both the conference and the Trade Show see

http://wnie.co.uk/embedded-live-2018/

Phaedrus Systems will be exhibiting and as a long term member of the MISRA-C working Group Chris Hills (our CTO) be speaking speaking on how to comply with coding standards, principally MISRA-C.
Book a free 45 minute consulting session with Senior FAE Niclas Lindblom. click here
STOP PRESS:
Percepio Launch Tracealyzer4!!
More information click here
See Tracealyzer in space!! Click here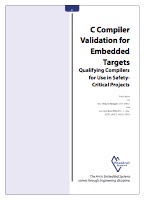 Compiler

Validation Service

For safety/security related and critical systems Validation Organisations are demanding validated compilers.  More often validated on-target.   

There is a lot more to validating a compiler than getting a test suite and running it.     Phaedrus Systems can now provide an On-Target compiler Validation Service to the highest standards.


For more information and supporting documents on how to validate a compiler click here
Independent Advice.
Independent advice is strengthened by the company's founder being an active participant in several standards bodies, including ISO C, C++ and IEC 61508-3, and a principal author of MISRA-C:2004. and member of the MISRA-C2012 team .If you need advice please call or email.
---
| | | | |
| --- | --- | --- | --- |
| | Safety Critical Systems Club | National Microelectronics Institute | |
| | | Software Systems Engineering Initiative | |