Phaedrus Systems supports engineers at all stages of embedded safety-critical and high-integrity projects. Tools available include requirements capture for IEC 61508, EN 50128 , DO178 and nuclear applications, a SIL3 RTOS and compiler validation reports. Consultants have experience working on automotive, rail and aerospace applications, meeting standards such as IEC 61508 SIL4, and D0178B. Backing these is a wide range of other relevant embedded tools, including code checkers, USB and TCP/IP stacks, development kits, debuggers and ICEs.

Our latest publication is an application note on how to link Programming Research's QA·C and IAR's Embedded Work Bench. Setting up a link allows you to call QA·C easily and quickly. This allows frequent static analysis and MISRA checking (if you are working to MISRA guidelines) finding potential bugs early and reducing later testing and debugging.
For link to document click here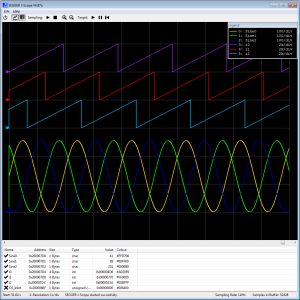 J-Scope &
Debugger


Segger has introduced three new products to improve debugging: J-Scope data visualisation software, J-Link Real Time Terminal and a beta release of the stand-alone Debugger software. These products are for use with Segger's market-leading J-Link family of debug probes .
For more information Click here

High Integrity Software is a conference that is an absolute must for anyone working in the area. On October 23rd in Bristol, as well as a host of good quality technical papers, it has a keynote by Martyn Thomas which on its own is almost certainly going to be worth the journey.

We are exhibiting and chairing a session on: Languages and Technologies
 
More information at http://www.his-2014.co.uk/index.html

Emprog ThunderBench product line of C/C++ tools features comprehensive enhancement and integration of Eclipse IDE, making it the best adaptation of such a platform for embedded programming.
An innovative makeover with dedicated embedded focused plugins make it truly the most desirable tools in the market.as you can see here.
Independent Advice.
Independent advice is strengthened by the company's founder being an active participant in several standards bodies, including ISO C, C++ and IEC 61508-3, and a principal author of MISRA-C:2004. and member of the MISRA-C2011 team .If you need advice please call or email.
---
| | | | |
| --- | --- | --- | --- |
| | Safety Critical Systems Club | National Microelectronics Institute | |
| | | Software Systems Engineering Initiative | |