Byte Craft Compilers
Byte Craft has been producing a select range of highly optimised compilers and development tools since 1976. The current processor targets are shown below. Byte Craft is, like Phaedrus Systems heavily involved in the international standards panels for C.
Byte Craft IDE and Technical papers
Byte Craft produces some essential technical papers. The 224 page introduction to embedded systems development (click here) is a must for all new embedded programmers. They also have a paper on the comparison between using C and assembler that is quite surprising. Another interesting paper is the 75 page guide to Fuzzy Logic and how you can us it in most C developments. Download it here
eTPU_C is a high-performance Code Development System for the Freescale eTPU. You can develop eTPU programming completely in the C language. And eTPU_C can supply the information your host (PowerPC™ or ColdFire) compiler needs to initialise and control the eTPU.. > Link to
The MPC supports the Microchip PIC 12/14/16/17 families, including 8K and flash parts. . > Link to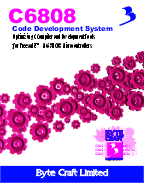 Byte Craft's C6808 Code Development System is designed for the Freescale M68HC08 family of microcontrollers.. > Link to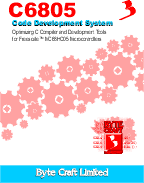 The C6805 Code Development System supports all Freescale MC68HC05 microcontrollers. > Link to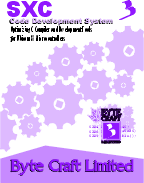 SXC extends support for the Ubicom (Scenix) SX family of processors, including the new SX48 and SX52 parts. > Link to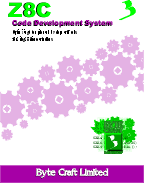 The Z8C Code Development System is targeted to the Z8 family of microcontrollers.
The Byte Craft Limited C38 Code Development System supports the entire Mitsubishi MELPS740 (38000) series of microcontrollers, which includes the 7600 series, M509xx, M371xx, M374xx and M38xxx. > Link to
The COP8C Code Development System . > Link to
The Byte Craft Limited Cypress C Code Development System supports the Cypress USB microcontrollers.> Link to

Fuzz-C™ is a preprocessor for Fuzzy Logic in C programs. . > Link to