Percepio Tracealyzer for RTOS

Percepio's Tracealyzer products give an unprecedented level of insight into the run-time world of embedded software. This allows you to solve complex software problems in a fraction of the time otherwise needed, develop more robust designs to prevent future problems and find new ways to improve your software's performance.

Book a free 45 minute consulting session with Senior FAE Niclas Lindblom. This is not a slideshow presentation. Video conference with Niclas to get started with Tracealyzer using your own project, tools, and hardware. Each session is unique. > Link to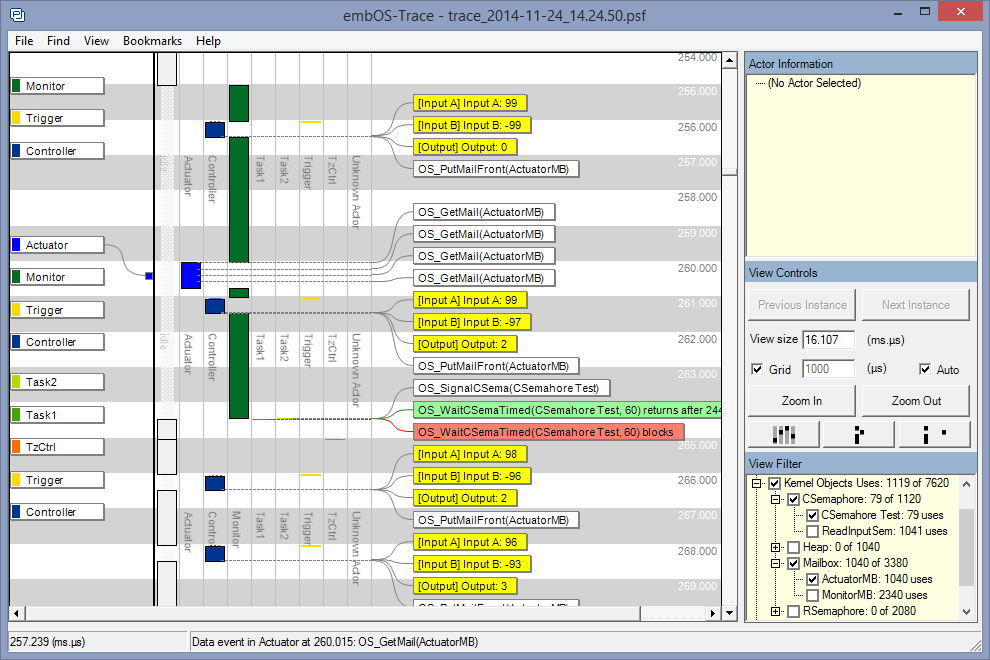 RTOS 101 series
RTOS basics, the elements of an RTOS, and how to use them.
RTOS 101: Semaphores and Queues with Tracealyzer
RTOS 101: Task Scheduling and Analysis with Tracealyzer
RTOS 101: Performance analysis with Tracealyzer

The RTOS Debugging series is RTOS agnostic.
These the first two of a series of five that we are in the process of sending out.
RTOS debugging: Dealing with timing issues
RTOS Debugging: When the CPU has too much on its hands
White Papers and articles
White paper: Stop Guessing - Trace Visualization for RTOS Firmware Debugging
White paper: Real-Time demands of the IoT
White paper: How to visualize response times in FreeRTOS
How to articles.
These are short articles explaining various technical issues surrounding Tracealyzer
How to: Snapshot vs Streaming Trace
How to: Tracing Exceptions on ARM Cortex-M MCUs
How to: Measure processor overhead used by the Tracealyzer recorder
How to: Using ARM ITM
Official Tracealyzer Introduction Videos.
They are a great introduction to the main features of Tracealyzer. Concise and not too long
https://www.youtube.com/watch?v=22GMcGdf0Q0
https://www.youtube.com/watch?v=vXlXIyMoaF0

Check out this new series of Tracealyzer tutorial videos. They include everything from using STM32 CubeMX to create a project, configuring the trace library, debug probe, and STM32 Nucleo board, all the way using Tracealyzer to view the FreeRTOS trace data.. > Link to